Alsace Classification Essay
By Julien Boulard / 朱利安
For some time now, we've been hearing whispers about the potential creation of a 1er Cru category for Alsace wines.
Olivier Humbrecht MW has been appointed as president of the "hierarchisation committee", and as I've just spent two weeks working at his winery, it would have been a shame not to question him about what might change in the way we introduce this fantastic wine region.
The Alsace wines hierarchy as today
For the time being, Alsace still wines are officially divided into two levels: there is the "Appellation Alsace Protégée" (Alsace AOP) which makes about 95% of the wines with Geographical Indication produced in the region. The remaining 5% are produced from the best vineyards and sold under the "Appellation Alsace Grand Cru Protégée". It seems simple, but things become slightly puzzling when you consider that the first level (Alsace AOP) actually comprises three sub-categories: 1- the general Alsace wine, 2- wines with a complementary geographical denomination and 3- the lieux-dits wines (see figure 1).
The regional Alsace AOC/AOP was created in 1945 and covers over one hundred villages within the Bas-Rhin and Haut-Rhin departments.
The thirteen "complementary denominations" are delimited areas which have built a strong reputation over time for producing wines with peculiar qualities such as Ottrot for its red wines made from Pinot Noir, or Klevener de Heiligenstein for producing a dry white wine made from Klevener (the local name for Savagnin Rose).
Contrarily to the "complementary denominations", the areas for the "lieux-dits" aren't defined in the "cahier des charges", still if one mentions a specific vineyard name on his/her label, he/she must comply with stricter production rules, notably lower maximum yields (68 hl/ha instead of 80 hl/ha for a regional Alsace wine for instance).
Finally, the first Grand Cru was recognised in 1975 (Schlossberg) and the last one in 2007 (Kaefferkopf). In 2011, all the 51 Grands Crus were recognised as independent AOP, each of them having to comply with specific production rules.
The Alsace wines hierarchy tomorrow
Now, what would change if the new classification is approved by the INAO?
First of all, the wines with a complementary denomination would be removed from the regional category and "upgraded" to a new level called the "village" wines. They would be recognised as independent AOPs, with specific production rules or "cahier des charges".
Then, and that's the main focus of discussion, some high-quality lieux-dits that have shown consistency over time would be gathered into a new Premier Cru (1er Cru) category, with specific production rules as well (cf figure 2).
Reasons for modifying the hierarchy
Why modifying a "classification" that has been in place for so many years? I can think of several reasons.
The first one is, where many people think this new classification will complicate consumers' understanding of Alsatian wines, I actually see a simplification of the pyramid (please stop thinking that consumers can't deal with four layers!)
The current framework, with a bottom-level and a top-level, is over-simplistic. Wines of relatively high quality are currently drowned within entry-level products, and producers (and consumers) can't refer to an intermediate shelf that would suit wines considered, qualitatively-speaking, in-between the regional and the Grand Cru appellations.
This is a bit like a clothes shop which space would be solely divided into "S" and "XL" sizes areas, and where all "M" and "L" sizes would be merely stuffed in the "S" area. The seemingly simple layout just makes things messy.
Another reason is that this new classification is expected to raise the general quality up. As mentioned above, all the 1er Crus wines will be current lieu-dit wines which have shown consistency over time (of quality, reputation and prices).
If the INAO validates the project, producers will have to comply with lower yield requirements to market them as "1er crus" (57 hl/ha instead of 68 hl/ha). Moreover, each 1er Cru area will have to demonstrate a "geological unity" (unité géologique), meaning that the soil type, the slope angle and the orientation among others of a 1er Cru vineyard would have to be homogenous throughout its delimited boundary. The area delimitation of the 1er Crus is thus expected to be much more drastic that that of the Grand Crus.
Finally, if this hierarchisation is validated by the INAO, this means that each "village" or "1er Cru" appellation would have its own Appellation d'Origine Protégée, and as you've certainly noticed, the move from the former Appellation d'Origine Contrôlée to a "Protégée" status in 2007 implies that not only is the origin guaranteed by control, but that it is "protected", which means that no other region in the world (at least in Europe and countries which have signed agreements with the EU) would be able to use these AOP names.
The debate
During my stay in Alsace, I encountered very few people who were against this new hierarchisation. Some raised the slightly bitter-sounding concern that this new classification will mainly favour iconic and large-scale producers who already possess high quality vineyards and who will therefore see the value of their real estate increase further more.
When I raised the point that this increase should also profit small producers owning vines on potential 1er Cru sites, they rightly retorted that the current generation may indeed benefit from a value increase of their land, but that this will become a real burden for their children who might struggle to pay the prohibitively high inheritance taxes in force in France (not to mention the likely increase of property taxes), and that we might thus witness the gradual disappearance of artisan growers.
Although you could argue that the new classification might help them expect higher incomes, it is also true that many producers don't have the power to raise their prices in order to cover the costs of lower yields and simultaneously generate higher margins.
Such a transition can only be made over many, sometimes financially-tearing years, and requires a strong awareness from the producers.
The second concern of the reform's detractors is the ambiguous qualitative relation between Grand Crus and Premier Crus.
As mentioned above, the 1ers Crus vineyards will be delimited in a stricter way than the Grands Crus were. Moreover, with a yield limit of 57 hectolitres per hectare, the production requirements are almost the same as those for Grands Crus wines.
They therefore worry that many 1er Crus will overshadow lower-quality Grands Crus, commanding higher prices and eventually complicating consumers' understanding. A producer told me that he would actually prefer to raise the number of Grands Crus rather that creating a "misnamed category".
Personally, I am in favour of such a classification as I do believe it will help drawing a clearer picture of Alsace wines' hierarchy; and a clearer discourse is always beneficial for customers' understanding, and consequently for sales.
From a wine lover point of view, I do think this new category will encourage some growers to raise their quality standards, and the severe delimitation of the parcels may actually help bottle-in a bit more of terroir in this varietal-driven region.
Regarding the argument about the potential disappearance of small producers, I am afraid that this is a general trend in France that won't be avoided by boycotting this classification. And if some 1ers Crus happen to perform better than some Grands Crus, I am sure time will come when they will be dully upgraded.
The only thing I find slightly frustrating is the status of some lieux-dits wines which are planned to remain within the bottom-quarter of the pyramid, despite more severe yields requirements (68 hl/ha instead of 72 hl/ha) and area delimitations than for village wines。
Another thing which slightly tickles me is that some village appellations won't necessarily cover the Grands Crus and/or 1ers Crus located within their administrative territory. But this is for the better as the 'village' appellation would have to show a 'geographical unity'.
For instance, Olivier Humbrecht MW explains that grapes coming from the famous Grand Cru 'Brand' couldn't be used to make a Turckheim AOP (the name of the village where the Brand is located) because the Grand Cru's soil is mostly made up of granite, while that of Turckheim's main area, around the Fetch River fan, is mainly alluvial.
He further emphasizes that "it is almost impossible to find a village in Alsace which would possess a uniform geographical identity throughout its territory".
Besides this geographical homogeneity, Eric Kintzler of Domaine Kientzler also points out that some village AOPs would also be linked to a certain style of wine. For instance, the producers of Ribeauvillé wish that their village appellation is only attributed to white wines without residual sugars.
After interviewing several estate owners, I've come to realise how difficult it is to deliver a consensual project that would be enthusiastically praised by every single winegrower.
The world of wine isn't simply divided between iconic, quality-driven producers and industrial, mass-market-oriented factories. A very diverse and complex world exists in-between, with priorities and concerns which ought to be taken into consideration.
Nevertheless, I do believe that the sustainability of any industry depends essentially on the on-going improvement of its products and/or services' quality, and any initiative 'sparking off a general emulation, even if slightly shaky' as put by Olivier Humbrecht, is worth pursuing and/or encouraging.
Now let's cross fingers and hope that the infamously tedious French administration won't take ages before allowing "Alsace 1er Cru – Clos Windsbuhl" to appear on a label…
Read on the next page:
Five wines produced from potential 1er Cru vineyards chosen by Julien Boulard
Translated by Sylvia Wu / 吴嘉溦
About the author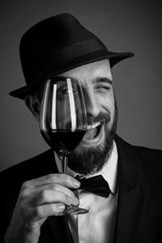 Julien Boulard / 朱利安
Born in France, Julien Boulard has been living continuously in China since 2003. He is a WSET Diploma holder and is currently studying for the Master of Wine. His fluency in Chinese, both spoken and written, his...
Read more
All rights reserved by Time Inc. (UK) Ltd. No part of this publication may be reproduced, distributed or transmitted in any form or by any means without the prior written permission of Decanter.
Only Official Media Partners (see About us) of DecanterChina.com may republish part of the content from the site without prior permission under strict Terms & Conditions. Contact china@decanter.com to learn about how to become an Official Media Partner of DecanterChina.com.

Strasbourg Overview
Strasbourg is the capital and principal city of the Alsace region in eastern France and is the official seat of the European Parliament. Located close to the border with Germany, it is the capital of the Bas-Rhin department. The city and the region of Alsace are historically German-speaking, explaining the city's Germanic name. In 2006, the city proper had 272,975 inhabitants and its urban community 467,375 inhabitants. With 638,670 inhabitants in 2006, Strasbourg's metropolitan area (aire urbaine) (only the part of the metropolitan area on French territory) is the ninth largest in France. The transnational Eurodistrict Strasbourg-Ortenau had a population of 884,988 inhabitants in 2008.
Strasbourg is the seat of several European institutions, such as the Council of Europe (with its European Court of Human Rights, its European Directorate for the Quality of Medicines and its European Audiovisual Observatory) and the Eurocorps, as well as the European Parliament and the European Ombudsman of the European Union. The city is the seat of the Central Commission for Navigation on the Rhine.
Strasbourg's historic city center, the Grande Île (Grand Island), was classified a World Heritage site by UNESCO in 1988, the first time such an honor was placed on an entire city center. Strasbourg is fused into the Franco-German culture and although violently disputed throughout history, has been a bridge of unity between France and Germany for centuries, especially through the University of Strasbourg, currently the largest in France, and the coexistence of Catholic and Protestant culture. The largest Islamic place of worship in France, the Strasbourg Grand Mosque, was inaugurated by French Interior Minister Manuel Valls on 27 September 2012.
Economically, Strasbourg is an important center of manufacturing and engineering, as well as of road, rail, and river communications. The port of Strasbourg is the second largest on the Rhine after Duisburg, Germany. In terms of city rankings, Strasbourg has been ranked third in France and 18th globally for innovation.
Etymology
The city's Gallicized name is of Germanic origin and means "Town (at the crossing) of roads". The modern Stras- is cognate to the German Straße / Strasse which itself is derived from Latin strata ("street"), while -bourg (French for "village") is cognate to the German -burg ("fortress, town, citadel") and English borough. So the whole name would be roughly translated into English as "Fortress on the Street", or better, "Fortress on the Road" (or crossroads).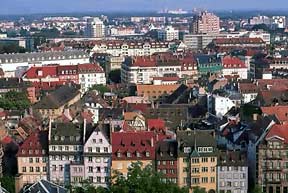 Skyline of Strasbourg
© Corbis/Nik Wheeler
(click to enlarge)
Geography
Strasbourg is situated on the Ill River, where it flows into the Rhine on the border with Germany, across from the German town Kehl. The city is situated in the Upper Rhine Plain, approximately 12 mi. (20 km) east of the Vosges Mountains and 16 mi. (25 km) west of the Black Forest.
The location and the resulting poor natural ventilation makes Strasbourg one of the most atmospherically polluted cities of France, although the progressive disappearance of heavy industry on both banks of the Rhine, as well as effective measures of traffic regulation in and around the city are showing encouraging results. The Grand contournement ouest (GCO) project, nurtured since 1999, plans the construction of a 15 mi. (24 km) long highway connection between the junctions of the A4 and the A35 autoroutes in the north and of the A4 and the A352 and A35 autoroutes in the south, meant to divert a significant portion of motorized traffic from the unité urbaine (metropolitan area).
Attractions
One of the best ways to get acquainted with Strasbourg is to take a Batorama boat tour (03.88.84.13.13) from Place de la Cathédrale, which lasts one hour and 10 minutes and costs €9,20 (€4,80 for children 3-18 years and students
Maison Kammerzell
Address: 16, place de la Cathédrale (next to the Office of Tourism)
Phone: 03.88.32.42.14
The Kammerzell house is one of most typical structures facing the Place de la Cathédrale, with the date 1467 engraved on the pediment of the door. At that time, the house belonged to Hans Joerger, a draper, who had occupied the premises since 1427. It was then acquired by the Staedel family before being sold to Martin Braun, a cheese maker, in 1571, who extended the house, building the upper floors in 1589.
In 1604, Braun's daughter married Robert Koenigsmann, better known as the "Anglais", for having brought tobacco plants back with him from England, which he then cultivated at what was known as the "Ferme d'Angleterre", a short distance from Fuchs Am Buckel. The house was then acquired by the Wohlleben family, followed by Jean Bernhardt, a merchant, whose son sold it to Jean François Fuchs, a grocer.
In 1806 it was purchased by Philippe-François Kammerzell, himself a grocer and native of Würzbourg. Sold at a public auction in 1879, it became an integral part of the heritage of the Oeuvre Notre Dame. Today, it houses a gourmet restaurant which rents the building from the Oeuvre.
strasbourg2strasbourg3
NEXT PAGE » Alsace Links