Air Force Upt Assignment Night Vance
---
Air Force Pilot Training Topics
Typical Training Day in Pilot Training
Life as an Officer in Undergraduate Pilot Training
Euro-Nato Joint Jet Pilot Training (ENJJPT)
Physical Fitness and the FACT
Welcome Letter & What to Bring
Acronyms & Terms Glossary
---
Life as an Officer in Undergraduate Pilot Training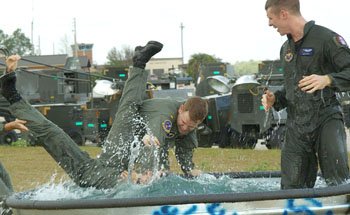 You will be in training with fellow officers from across the nation, Academy, ROTC, OTS, and AMS graduates. Air Force UPT trains all active duty as well as Air National Guard and Air Force Reserve pilots. In addition, student pilots from dozens of allied countries from around the world attend UPT and you can expect foreign national officers in your class. Several UPT bases offer the JSUPT experience, that is Joint Specialized Undergraduate Pilot Training – this means USAF and USN students and instructors. Joint training is becoming more prevalent in today's military. You will learn a lot about your sister-services and military traditions – in addition to your military flight training.
As a class, you will learn early that you need to work together to graduate. Your class will get to design and create its own class patch that you will wear proudly on your flight suit during pilot training. Camaraderie starts here. You will make close friends with your pilot training classmates and many of them you will fly much of your Air Force career with. Pilot training is full of tradition. One tradition is the solo dunk tank – this water-filled dunk tank is decorated by your class and used to douse your classmates immediately following their first solo flight.
There will be ample opportunity to live on base during pilot training. As a married student you may be able to live in family housing on base (space-limited) or live off base. As a single student there will be room in the on-base student dorms for you to live. Certain pilot training bases have rules that force the single students to live on base. Family houses are typically duplexes with yards and car ports. Student dorms are furnished and include private bathrooms and kitchens. If life on a military base is new to you, let me give you a brief introduction.
Although UPT bases are smaller than regular operational bases, you will find everything you need including: a commissary to buy all your groceries; a Base Exchange (BX) for various clothing, furniture and electronics; a fully-stocked gym and fitness center; gas station and convenience store; golf course; and typically other recreational opportunities. Your time is primarily devoted to flying, studying, and preparing for your flights. However, you will have time to use the facilities on base and enjoy your time off in the local area. Weekends and federal holidays are usually off – however, at times when flights were behind schedule, students have flown on the weekends. Weeknights at home are usually spent studying for the next day's flight or simulator, memorizing regulations and publications, preparing flight plans and other mission planning, and chair-flying maneuvers and profiles.

Typically, students are not allowed to take leave during pilot training, so don't plan any extra time off, vacations, or events during your year of pilot training. You will need to be focused and devoted to the program. For the students with families, this can be a tough year, although they will accompany you to UPT, your time will be filled flying and preparing for your flights. At the end it is all worth it as your friends and family watch your graduation ceremony as you are presented your Air Force pilot wings.
Just prior to your UPT class graduation is the festive Assignment Night (also called "Drop Night"). This is a formal, and usually raucous, event held in your base auditorium with many friends and family in attendance. This is the night where UPT students will receive their assignment – their future aircraft and location. Awards are given, UPT class videos are shown, and students celebrate with a huge party afterwards.
---

Aces flight at Laughlin AFB Solo Dunk Tank

T-6 Stud ready to begin his Dollar Ride, Laughlin AFB 2004

T-37 Touch-and-Go
---
Vance 09-13 Assignment Night Video

---
Sheppard AFB | Vance AFB | Columbus AFB | Laughlin AFB | Moody AFB
Drop Night is Coming!
Drop night is QUICKLY approaching, and I just wanted to write about it and what it means to us.
First and foremost, it is set for Friday, June 2nd, 2017 at 7:00PM for Dan's class at ENJJPT.
What is drop night?
I get asked this question ALL. THE. TIME. Drop night is when the student pilots from one class (my husband is at Euro-NATO Joint Jet Pilot Training (ENJJPT) at Sheppard Air Force Base, but there are three other Air Force Undergraduate Pilot Training (UPT) bases too - Vance AFB, Laughlin AFB, and Columbus AFB) find out IN FRONT OF EVERYONE what plane they will be flying for their Air Force career.
Dan is specifically in class 17-06, but there is a drop night every six weeks here at Sheppard. The dates vary with the other three UPT bases, but drop nights happen at regular intervals.
How are the student pilots selected for their aircraft assignments?
I also hear this one a lot. The student pilots are ranked within their flights and their classes (each class has two flights) based on several factors from their training, check rides, etc. throughout the year-long program. They also get to submit a "dream sheet", where they rank each and every aircraft the Air Force has to offer, starting with their top choice and going all the way to last place. Based on their ranking AND what they hope the fly, the people who choose just kind of go down the list.
What does Dan hope to fly?
This is probably the most frequent question I get from family and friends - ALL THE TIME! While he certainly has preferences (and I'll get to those), he has longed to be an Air Force pilot for so long that he will just be happy to get paid to fly anything! He's not one of those people (and oh do they exist!) who will be super upset and unable to function if he doesn't get one of his top choices. But, hey, Air Force Gods... it wouldn't hurt to give him one anyway! ;-) Dan's top three planes on his dream sheet are the F-35, F-22, and F-15E. We really struggled to place those in any kind of order, though, so if he gets ANY of those top three, it'll be like winning the jackpot! His next three are the F-16, A-10, and F-15C, which would still be cool but aren't AS desirable. Then, he skips down to the heavies - or cargo planes - C-130, C-17, C-21, C-5, etc. After the heavies come the bombers and finally FAIPing, which is what we absolutely do NOT want (staying here at Sheppard and him being an instructor pilot - he's already a 1st Lieutenant, prior enlisted, and pretty old for the average student pilot), so we're hoping to avoid this step, but each drop has at least one and sometimes two in the mix... so we know it's still a possibility.
No matte what the outcome, we are just excited to KNOW so we can start planning our next move! That's right - whatever plane he is assigned also tells us what specific base we will be moving to! We won't know EXACTLY when, but we'll have a pretty good idea, and the planner in me is just dying to start looking at houses, activities for Annabelle, an OB and hospital for Baby Cookie #2, etc. I NEED TO KNOW.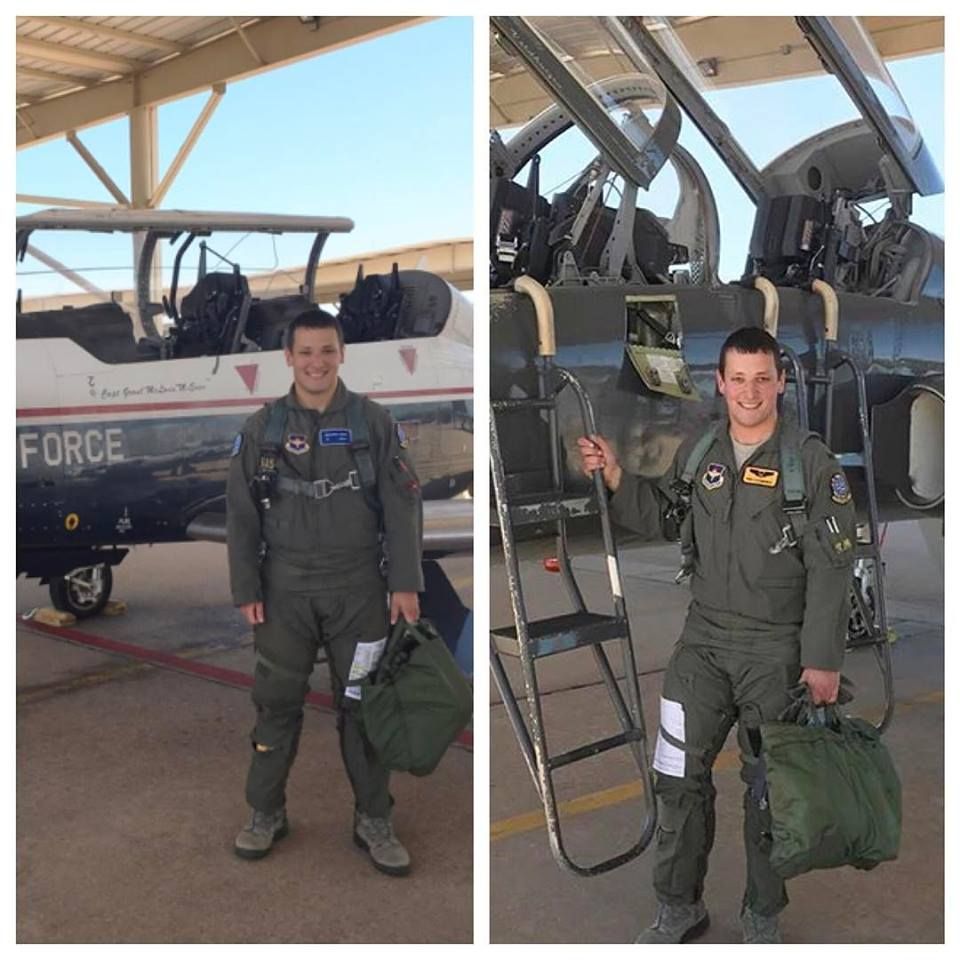 This journey really has been a long time coming. When I met Dan in 2008, he was already in the Air National Guard and pursuing a degree in Aviation. He had always dreamed of flying in the Air Force, but that didn't seem like a reality until he was accepted into the Air Force Academy shortly after we started dating in 2009 and went active duty. Basically, our entire relationship has been focused on this one long-term dream and goal. He has poured every little bit of himself into being the best cadet, then officer, then Master's student, and now student pilot that he could possibly be in order to achieve his dreams. No matter what aircraft he is assigned to, we know it will be the right fit for our family because you just don't work this hard for nothing. It's all coming to fruition NEXT WEEK, He will still have three more weeks of pilot training after drop night before graduation, but I can already tell those three weeks are going to be so amazing because we'll KNOW everything we need to know. No more guessing. No more fretting.
This studly husband of mine has worked his tail off for NO JOKE eight years to achieve the goal of becoming a pilot in the world's greatest Air Force. And here we are... about to watch an absolute DREAM COME TRUE. (I'm not proud or anything... ;-) )
Please pray, send good wishes, positive thoughts, crossed fingers, etc. our way next week, as I know we will both be an anxious, nervous wreck!